Introduction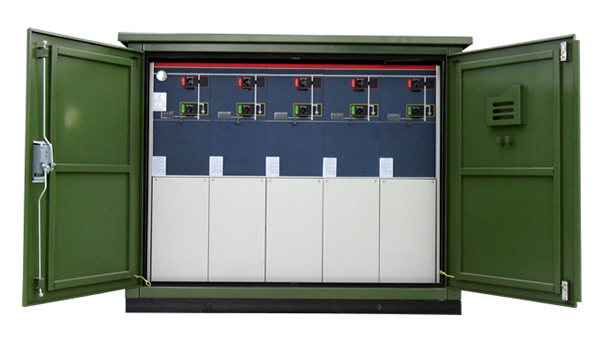 First, performance and usage profile
Outdoor small opening and closing (outdoor high-voltage ring network cabinet) is adopted and learn from foreign advanced technology, the 10kV switchgear, circuit breaker, load switch, current and voltage transformer, 10kV power Pt, opening and closing of the FTU, RTU, communication control terminal (CCU), 10kV measurement and automatic meter reading, UPS power supply and indicator installation and debugging well into a movable sealing, moisture resistant stainless steel box body, in order to achieve the urban distribution network, secondary system of the integrated, modular assembly, shorten the construction period, greatly improving reliability of the operation of urban distribution network.
Two, normal use conditions
A) maximum altitude 2000m;
Ambient air temperature: +45 B C, lower limit of -25;
Relative humidity: daily average of less than 95%, the monthly average of not more than 90%, c;
D) wind speed: no more than 35m/S;
E) no frequent violent vibration, the earthquake intensity is not more than 8 degrees;
F) installation tilt no more than 5 degrees.
Three, the opening and closing of a device selection
Xgn15-12, SsfeRing, domestic gas (SF6) cabinet sm6, RM6 load switch cabinet is the best choice for outdoor small opening and closing by a device, with my company specifically for the small opening and closing and ring cage variable load of manufacturing high voltage switch module, make the structure more compact.
These devices were closed, disconnect, grounding three position, and has locking function, can effectively prevent charged ground and charged grounding switch on the wrong operation, such as. All these equipment has reliable mechanical interlock, only at the grounding position to open the outlet chamber door to ensure personal safety and operation. Clear picture of simulated bus can reliably show the switch is closed, disconnecting and earthing position has charged display device. All load switch devices can be configured to current, voltage transformer, UPS power supply, feeder terminal unit (FTU) and to meet automation and measurement requirements.
Normal load switch high voltage module has load switch cabinet type, load switch + fuse box type, isolation switch + fuse box type, load switch + circuit breaker cabinet type.